Boho White Hoop Handmade Ceramic Earrings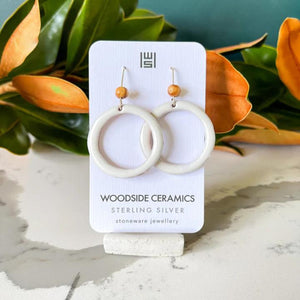 Our 'Boho' white hoop earrings are a perfect neutral.
An organic hoop drop earring with a fresh white glaze flecked with subtle highlights from the warm ceramic base. Perfect to pair with breezy linens and leather flats.
Earrings hang on a handmade sterling silver hook, shaped by hand, twice fired by kiln and hand glazed.
Made on the Sunshine Coast
-To clean ceramic surface use a soft cloth dipped in warm soapy water. 
-Dimensions : 35mm at widest point and 3mm thick
*Please note dimensions and pattern may vary slightly as these are handmade.