Eucalypt Green Hoop Handmade Ceramic Earrings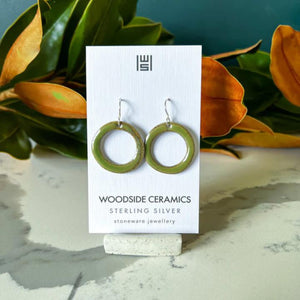 Delicate teardrop shaped with a subtle natural green glaze for our 'Eucalypt' finish. 
Hang on a stainless French wire hook, shaped by hand, twice fired by kiln and hand glazed.
To clean ceramic surface use a soft cloth dipped in warm soapy water. 
Dimensions:
- 25mm at widest point (~1 inch)
- 5mm thick (~3/16 inch) 
- Approx 3g weight p/ earring
* Please note dimensions and pattern may vary slightly as these are a handmade item.
Made on the Sunshine Coast