Handmade Ceramic Sterling Silver Earrings - Reef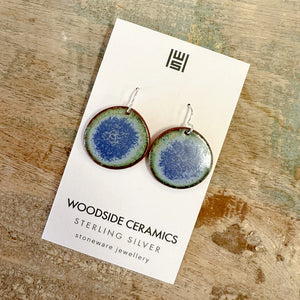 Our new eye catching lightweight disc drop earrings with vibrant green and blue glazes for our 'Reef' finish are handmade. Earrings hang on a sterling silver French wire hook.

Earrings have been shaped by hand, twice fired by kiln and hand glazed.
To clean ceramic surface use a soft cloth dipped in warm soapy water. 
For brass fixtures avoid contact with moisture to prevent discolouration.

The specifics:
* Approx. 40mm in height
* 25mm at widest point 
* 2mm thick 
*Dimensions and pattern may vary slightly as these are handmade.